Affordable arm lift in Tunisia: improve the morphology of your arms. Request your aesthetic quote online.
Brachioplasty is a cosmetic surgery that involves liposuction to reduce fat infiltration, removal of excess skin, and re-draping the remaining skin to tighten it.
Arm lift is generally performed on patients who have undergone significant weight loss and whose skin has lost most of its elasticity.
Arm lift is based on two procedures. :
Liposuction is used to remove excess fat from the circumference of the arm.
And the removal of excess skin, depending on the extent of skin laxity.
If the sagging is significant, the incision is made along the inner side of the arm.
If the sagging is moderate and located in the upper third of the arm, the incision is horizontal in the armpit.
The operation is performed under general anesthesia and lasts on average 1 hour and a half.
The aftermath of the operation is generally very bearable, with aches and pains, requiring only simple painkillers.
Bruises and swelling may appear. They will regress within 10 days after the operation.
The result is appreciated only after 6 to 12 months after the intervention.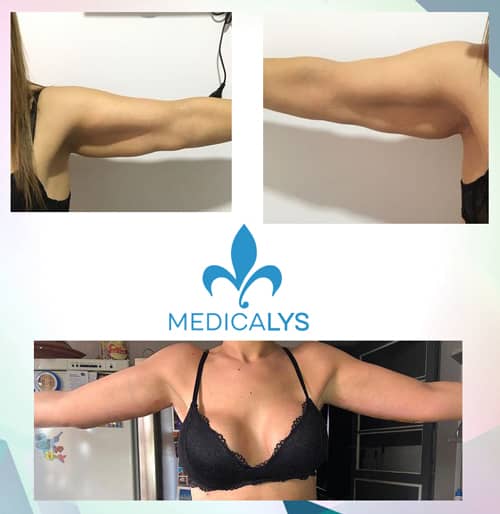 Call me back without commitment.
Prices
SURGERY
aesthetic
TUNISIA