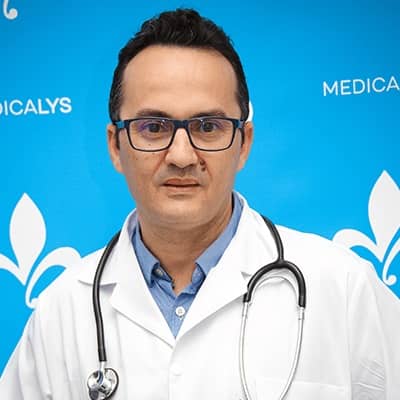 Nationality : Tunisian
Social and Humanitarian Activities
---
Social and humanitarian activities.
Organization of a workshop on obesity surgery at the clinic de l'espoir in November 2015.
Medical and Social Mission: 08 to 12 May 2016 in Burkina-Faso.
Medico-social Mission: 06 to 09 June 2016 in Niamey, Niger.
Specialty
Bariatric surgery, proctological surgery, laparoscopic colorectal surgery.
Academic Background :
---
Training in procto-laser.
Specialty in General and Digestive Surgery.
State Doctorate in Medical Studies: Sfax Faculty of Medicine. Research theme on ileo-anal anastomoses: polyposis, IBD.
Instructor of human anatomy.
Medical studies: Faculty of Medicine of Sfax, Tunisia.
TRAINING COURSE IN BARIATRIC SURGERY. :
---
Former intern of the hospitals of Paris (2009-2013).
Assistant: Surgery department at the Charles Nicolle Hospital in Tunis - 1991 to 1996.
Military Hospital of Gabes: Senior Surgeon.
Microsurgery Internship at Cardarelli Naples, Italy - 2004
European School of Laparoscopic Surgery - 2006.
Hepatobiliary and Pancreatic Surgery in Lyon: 2006-2007
Initiation to Robotic Surgery at Edouard Herriot Hospital of Lyon - 2008.
Installation in the private sector: Ariana Superior; Group practice of Digestive Surgery and Vascular Surgery - 2009.
Senior surgeon in the surgery department at the Charles Nicole Hospital Tunis - 2002 to 2009.
International workshop in obesity surgery at the Casablanca Obesity Center with Dr. Richard Abbitant - June 2015