Lipofilling Breast Augmentation in Tunisia: Medicalys Tunisia offers competitive prices for breast augmentation without implants in Tunisia.
Breast lipostructure is an alternative to breast implant surgery for women who wish to enhance their breast size or shape.
Breast implant surgery involves placing round or anatomical implants either behind the breast gland or behind the pectoralis major muscle.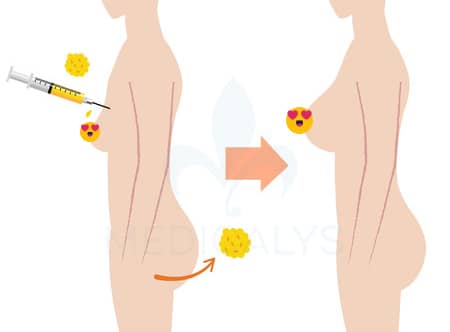 Call me back without commitment.
Breast fat grafting is indicated for cases of moderate breast hypertrophy or to correct breast asymmetry.
It can result in an increase in breast volume of one to two cup sizes, and the results are natural and long-lasting.
Liposuction is performed atraumatically through a micro-incision hidden in natural folds, using a very fine suction cannula.
The incisions for reinjection of the fat are small and hidden in folds under the breast, leaving no visible scars.
Breast fat grafting is performed under general anesthesia and typically lasts around 1.5 hours.
The post-surgery period is usually not painful, and any bruising and swelling typically subside within a few weeks.
Results of breast fat grafting before and after in Tunisia.
The results of breast fat grafting become visible after two or three months, and the volume will remain stable if the patient's weight remains stable.
If the patient's weight fluctuates, the volume of the breasts may also increase or decrease.
Breast fat grafting is generally very satisfactory and may require two or three sessions due to some degree of fat reabsorption.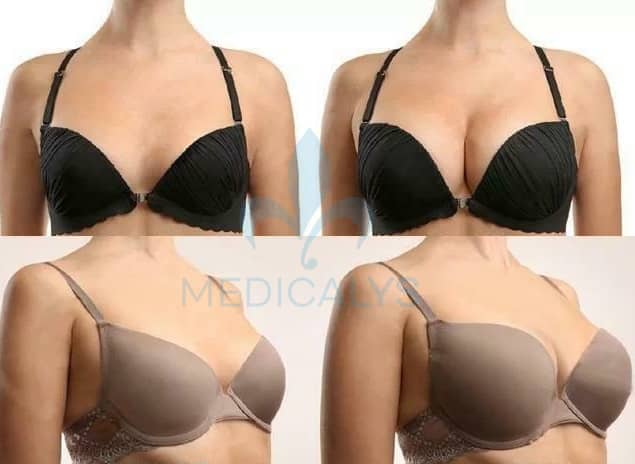 Breast lipofilling Before-after
Call me back without commitment.
Prices
SURGERY
aesthetic
TUNISIA